LOVE 3CE Collection
LOVE 3CE Collection
New release – 3CE has launched their latest collection titled "LOVE". The collection is inspired by vintage toys and beautiful fun filled memories of when you were younger. The LOVE 3CE Collection consists of a moisturizing cushion, 5 duo tone eye shadows palettes, 6 cheek blush palettes, 6 glossy lipsticks, 6 matte lipsticks and heart shaped hand mirrors in 3 shades.
---
LOVE 3CE Baby Glow Cushion (SPF 50+, PA ++)
32,000 won / 12g
2 Shades – Ivory Cream (001) and Medium Beige (002)
High-gloss oil and low-molecular-weight hyaluronic acid
Gently wrap your skin and finish your skin as smooth and moist as baby skin texture.
---
LOVE 3CE Shadow Duo
19,000 won / 3.2g
Textures rich in color are transparent and clean .
Eyeshadow that completes a lovely layered eye makeup with a sensual duo color .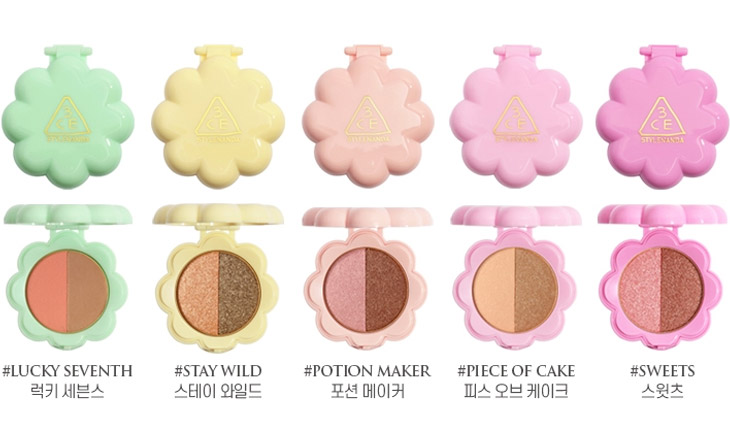 LOVE 3CE Shadow Duo – all 5 colors
---
​
LOVE 3CE Cheek Maker
19,000 won / 3.8g
Lovely colors that are clear and bright,
The cheek make-up is complete.
---
​LOVE 3CE Glossy Lipstick
20,000 won / 3.5g
Baby lip that seems to be full of moisture
High Glossy lipstick favorite soft, smooth texture melts on the lips touching moment
​
---
LOVE 3CE Velvet Lipstick (matte)
20,000 won / 3.5g
Elegant, soft texture glides comfortably over your lips ,
The color is rich velvet veil comfortable , long lasting lip color is maintained for a long time .
​
---
​LOVE 3CE Heart Hand Mirror
Cute and lovely heart-shaped and sweet candy-colored
LOVE 3CE hand mirror.
*All images belong to 3CE