Review: Shopping on Earlypicker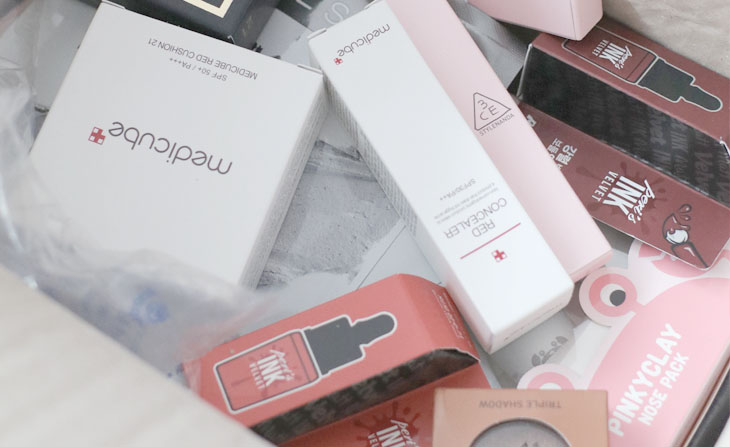 I think it's pretty obvious now that while I love ALL kinds of makeup (I don't discriminate!), I generally tend to gravitate towards korean beauty, possibly because of the adorable packaging and attractive price points. I do prefer western eyeshadow products though because they're typically a lot more pigmented and there are plenty of beauty brands which market their eyeshadow palettes so well that I just can't resist them! Anyways, so recently, I've had the pleasure of picking out some items on Early Picker, a Korea-based online store which stocks the most popular Korean beauty brands and products.
Some things to note about Early Picker –
They are marketed as the place to get your K-beauty fix, at the lowest prices. While I can't say that I checked the prices of ALL the items on the webstore, I did pick out a couple of products to do a price comparison, and Early Picker did have the lowest prices for all the products I looked up on.
Also, if you have a cult k-beauty product you want to get your hands on, it's probably on Early Picker, as the team keeps track and stocks up on the latest beauty trends in the K-beauty world.
Time Sales
Early Picker runs time sales on pre-bundled sets which actually translates to huge savings on the products! Gather your friends to make this bulk purchase, and you'll be able to save quite a bit on your purchase!
Sampling Pouch
Early Picker has taken the whole sampling-giving culture in Korea to a whole new level as they threw in so many (including full sized products) in the sample pouch that was included in my order! There's also a handy little chart, which tells you the number of samples you're entitled to, based on the value of your order!
With so many options to choose from, (I was honestly spoilt for choice!) here are the products that I picked out from the website:-
3ce tattoo lip tint  in #COOLEST and #LUZTIC, USD$13 each
Being a huge 3ce fan, these were the first items I picked out – the 3ce tattoo lip tint in 2 shades. I don't know whether its just me and my general love for the brand, but I find their lip shades to be very flattering for Asian skin tones (or for me, at least!)
3ce mood recipe triple shadow in #SWOON, USD$21
Of all the 3ce items I've ever purchased, this is actually my first eyeshadow from the brand. I have not had the chance to try it out yet, but the shades look amazing in the pan. Plus, I'm loving the monochromatic brown packaging and eyeshadow pot, and even unused, this will make a great prop for a flatlay. (I know I'm weird)
April Skin Magic Snow Cushion, USD$26
I'm actually very curious about Aprilskin, as the brand does not have a retail presence in Singapore. I've heard so many good things about the brand and can't wait to give this cushion a try!
April Skin Pinky Clay Nose Pack, USD$16
Like all.. people with skin, blackhead woes have plagued me for the longest of time. April Skin's Pinky Clay Nose Mask has popped up repeatedly during conversations as a great product to blast those blackheads ahead so I thought I'd give it a shot!
April Skin Mummy Mud Mask, USD$25 for a pack of 5
This product came highly recommended by friends of mine, and it looked really interesting, and so into my shopping cart it went! I'm super thankful that this also came as some of the extra freebies in the sample pouch, talk about value!
April Skin Magic Snow Pad, USD$2 each
You know how you watch those Facebook ads on April Skin products and they seem to perform so unbelievably miraculously? I'm a cynic and I had doubts.
Don't be fooled by its seemingly innocuous looks. The product packs quite a punch. I kind of went overboard with the exfoliating side of the pad and ended up scrubbing off the skin around my nose. The pad worked like a dream and left my skin feeling softer and smoother than ever.
Medicube Red Cushion, USD$37.20
Another elusive brand that I've only ever watched videos of, on those Facebook ads. Medicube is apparently AWESOME, especially for acne/pimple prone skin! I watch Heyitsfeiii on Youtube and if she says this cushion is awesome. This cushion is awesome.
Medicube Red Concealer, USD$21.60
Again, chose this to go along with the Medicube Red Cushion since the brand is so highly raved about!
Peripera Ink The Velvet, USD$6
I have ALWAYS wanted to give Peripera lip tints a try, because this is yet another hype product that we Singaporeans have a hard time trying to get a hold of! I love lip tints for the natural, light tint that they lend to the lips, so I'm really excited to give this product a try!
The shopping experience
For me, the shopping experience was nothing short of pleasant – wide product range, fast shipping, and plenty of (full sized) samples, hellooooo? Need I say more? Let me know if you've shopped with Earlypicker, and tell me about your experience! I'd love to hear some thoughts!