REVIEW: APRILSKIN Real Calendula Skincare Range
So I thought APRILSKIN needed no introduction, but while searching for information on the brand for my rock-living-under-friends, I've come to realize just how little there is out there about this skincare/cosmetic brand. I've have watched countless videos while scrolling through my Facebook/Instagram feed attesting to the efficacy of the products, yet somehow I didn't quite know anything about the brand other than the fact that it originated from South Korea.
So this is basically what I know thus far;
APRILSKIN is a natural cosmetic brand founded in South Korea in 2014, and they are all about using only natural ingredients to renew skin cells for a healthy complexion. The reasoning behind the name "APRILSKIN" is that, with April signifying the beginning of Spring, the brand hopes to bring about rejuvenation of new skin, to reveal radiant and beautiful skin.
The brand has recently launched their latest real Calendula series in Singapore, incorporating new ingredients like LHA and PHA into their skincare line. I've kinda lost track of the HAs, but I guess anything that's -HA is good for the skin! There are three products in this line, the Real Calendula Peel Off Pack, Peeling Pad, and the Deep Moisture Essence.
Calendula has long been used in skin preparations because of its many healing and soothing properties to skin. It is also, as an ingredient, really gentle, and hence used in products like diaper rash cream. Here are some of its beneficial properties and why it's such a popular skincare inclusion!
Protects Skin
Calendula oil is often used for dry/damaged skin as it has natural restorative properties that soothes, and infuse skin with a youthful glow.
Anti Aging
From the colour of the flower, you can kinda tell that Calendulas contain carotenoids, which are key in promoting a more youthful appearance to the skin.
Moisturizing
Calendula is super gentle and hydrating, and is thus great for calming dry and sensitive skin.
APRILSKIN Real Calendula Peel Off Pack (SGD$23.00, 100ml)
The Real Calendula Peel Off Pack is a refreshing peel off mask, thats fortified with real calendula petals, extract, and oil, and helps to lift away dead and dull skin to reveal cleaner, smoother, and radiant skin.
How to use:
Shake well to evenly distribute the Calendula petals.
Apply a thin, even layer to clean, dry skin, avoiding the eye area and anywhere that hair grows.
Leave on for 30 minutes or until completely dry and then gently peel of the mask from the outer edges.
Rinse off any residue with warm water.
(Left: the gel when first applied. Right: the gel when it's all dry!)
The peeling gel has a light, gel (duh) texture, which is slightly tacky. Guess that makes sense because it's supposed to dry and remove all the gunk from your skin. The gel takes pretty long to dry, it says to leave it on for 30 minutes on the packaging, which I was hoping to be an exaggeration, but it isn't. It really does take that long to dry. I'm pretty lazy (even though I don't know which part of the 30 mins would entail me having to put in any effort, but I guess I just cannot commit to not talking for 30 minutes) and so the drying time was a little bit of a pain for me, but if the mask works then I guess 1/2 hour of my life isn't a big price to pay at all!
So the gel really works into the little nooks and crannies of your skin and settles there. It wasn't difficult to remove (unlike those crazy black peeling masks that get people in tears). Here's a close up of the mask (after removal) to show just how deeply it settles into the skin.
ok I have to admit, I'm pretty grossed out by the texture of my own skin. Why is skin so gross? But case in point – the gel seems to go deep. That, I like.
Here's my skin after removing the mask. It may not be obvious in the image, but the masked portion of my skin feels smoother and looks more mattified with less obvious lines. Maybe it's just cleaner, I can't quite explain it, but it definitely did something good to my skin.
APRILSKIN Real Calendula Peeling Pad (SGD$29.90, 60 pcs)
The Real Calendula Peeling Pad is deeply hydrating alcohol-free toner soaked pad which work to gently, but effectively buff away daily impurities, kinda like a skin polish without any physical exfoliant. It is fortified with 80% real calendula water and contains LHA + PHA, which are new exfoliating components which can be used daily without irritating your skin.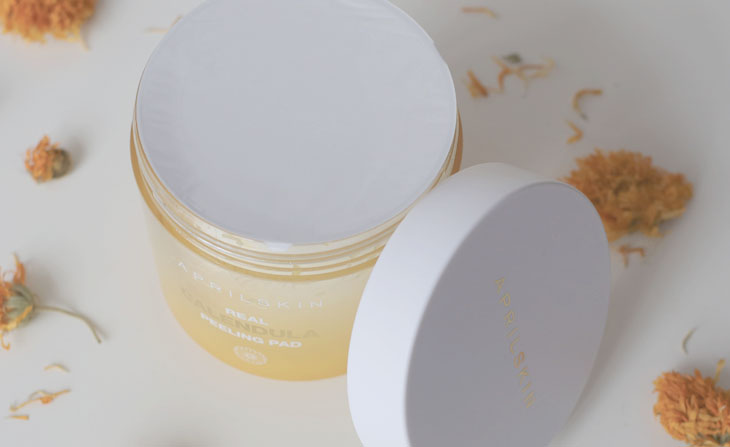 How to use:
Wipe over cleansed face with embossed side.
Flip it over and use the soft side to pick up any remaining skin debris, and gently pat to absorb.
The toner pads are really soaked with that calendula goodness, which is a huge plus, because in my Singaporean mind, it means I get a lot more bang for my buck. The floral scent of the product is ah-may-zing, and as I have definitely mentioned before, I'm a sucker for scented products. I know some (or maybe most) people don't like fragrance in their skincare, but nah uh not me! It's free smells, perfume for my face which makes me happy!
APRILSKIN Real Calendula Deep Moisture Essence (SGD$32.90, 100g)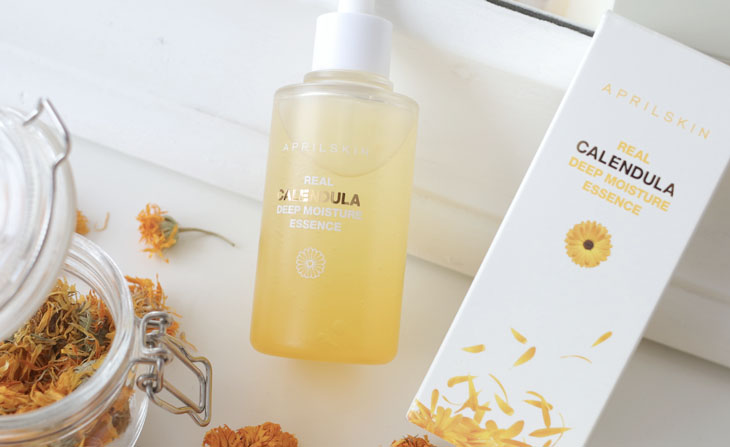 The Real Calendula Moisturizing Essence, like the toner pads, contain 80% calendula water, and works to restore radiance and suppleness to your skin, while also providing pore tightening effects to the skin with APRILSKIN's patented pore reduction complex technology.
The product comes in a convenient dropper dispenser which I personally love because it's really easy (and sanitary) to dispense just the amount of product I want!
How to use:
After washing face, take a couple of drops of essence and pat into skin.
Use daily every morning and night.
The texture is slightly watery, and works into the skin super easily (I like!) Just a couple of pats and the product is all worked into my skin! I prefer to pat skincare onto my skin because I really hate rubbing my face, even though this means that my skincare routine will take longer as I tirelessly pat my face every morning and evening. So the point I'm trying to make is – I love how easily the essence gets absorbed into my skin! Less patting involved! Yay!
Prices: As listed above
Where to buy: The APRILSKIN Real Calendula skincare range is available at over 85 Guardian stores islandwide, including the key stores like Takashimaya, Jurong Point, VivoCity and NEX mall.
Promotions: For a limited time only, you can purchase the Real Calendula Peel Off Pack Gift Set at $23.00 (that's the price of one tube alone), and get 2 additional mini peel off pack tubes (2 x 15ml).
If you purchase more than SGD$55 of APRILSKIN products, you'll get to receive a Real Calendula Travel Kit which includes a sample of the Real Calendula Peeling Pad (2 pads), 1 Real Calendula Deep Moisture Essence sample (15ml) and 1 Real Calendula Peel Off Pack sample (15ml)