Getting that perfect winged liner look with Sana Maikohan Liquid Eye Liners
"May the wings of your eyeliner always be even"
There's a reason why this saying exists, because eyeliner is the single product that can revive a person from looking undead, but it is also the most intimidating product in the makeup bag, just because a perfect eyeliner look can be so hard to master, and any mistakes are unfortunately, very obvious.
Since perfecting my eyeliner look is still a pretty celebrated accomplishment to me (Yes there is a ritual before I apply my makeup and it involves prayers and crossed fingers and toes), I am going to take all the help I can get. The Maikohan Liquid Eye Liner is a new eyeliner by Sana, designed to help you not mess up your makeup, and I bet you're wondering how an eyeliner can make such a bold claim, so read on.
Steady there now
So you know how you lift your eyeliner brush to line your eyes, and the product within the pen just gushes downward (gravity, ya!) and just throws the balance of the pen right off and you end up drawing a mess all over your lids. Okay I am just exaggerating here, but my point is – that's whats happening every time you line your eyes – it does happen, just on a much smaller scale. Anyway, the makers of the Maikohan liner has got that covered by installing a little weight at the end of the pen, and this way, it evens out the weight of the pen as you lift it, giving you a steadier hand.
Versatility
As if giving you the gift of steady hands is not enough, the brush is also pretty versatile, with a 0.1mm flat, flexible brush that allows you to draw a thin line using the side, or a wide line if you use the front of the brush. This makes it a whole lot easier to draw even lines on both eyes as I really cannot trust myself sometimes to be able to guesstimate the thickness of one side and repeat it on the other eye.
Everything-proof
If you're a cryer like me, then this is the perfect liner to wear to that movie where dogs die, because it.has.got.you.covered. Not only is the eyeliner water-proof against water and tears, it is also smudge-proof, and resistant to sebum and friction. So feel free to cry away and rub your eyes (gently though! You don't want wrinkles!), your makeup will still last the whole day! (Okay, can't say for the rest of your makeup, but your eyeliner will!)
Eye care!
So now that I'm sure I've got you excited about this eyeliner, let me throw you one more fun fact; the eyeliner not only prettifies you, it also contains eye care serum ingredients like hyaluronic acid, and extract of cherry blossom, chamomile, and tea leaves, which altogether have moisturizing, anti-aging, and anti-oxidant properties. The liner is also easy to remove with cleansing wash, so it is super gentle on your skin and you won't need to tug endlessly at your lids to effectively remove your makeup.
The eyeliner is available is 3 different shades, black, black brown, and a super on-trend red brown. Swatches below show the 3 shades, in black, brown, and red, drawn using the fine, and the thick sides of the brush.
If you think red brown sounds a little too out there for you – it really isn't! Here's a pretty wearable look I tried out with the red brown liner, and I must say I'm pretty obsessed with this makeup look.  The red liner does add a nice pop of color, don't you think?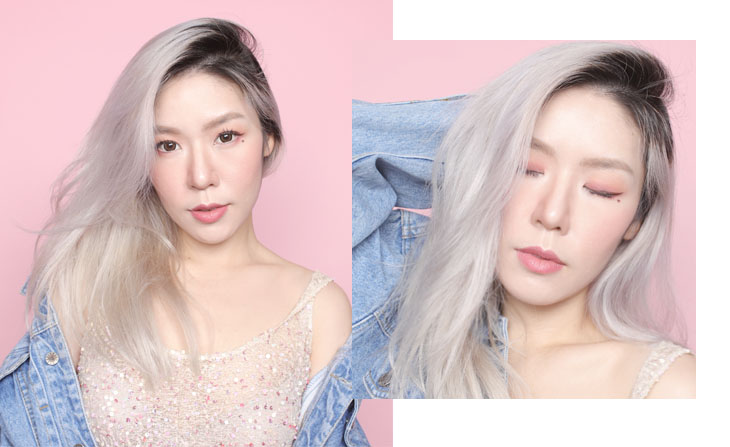 Price: $23.90
Where to buy: All SASA, BHG Welcia , Watsons, Don Don Donki & Tokyu Hands stores
Follow Sana on their socials
Instagram @sanasgp
Facebook @Sana.Singapore