Japan Skincare MINON Amino Moist is now in Singapore!
If I could use only one word to describe my skin, it'd be – real freaking oily. (oops, did I just use 3?) Well, my skin has moods, and it often alternates between oily, oilier, and damn, OILY. (I hope I've got my point across.)
I was recently introduced to MINON Amino Moist, one of Japan's leading skincare brands, which has newly arrived on our shores! Pink packaging aside, (You know I'm a sucker for anything pink) the entire range boasts a gentle and highly moisturizing formula for sensitive and dry skin, which is dermatologically developed by Daiichi Sankyo (which has more than 100 years of scientific expertise). I know you must be thinking, "hey the range is good for dry skin, but what about your oilier than oil skin?" – but wait, there's more! (More on this below)
The product line up is formulated with amino acids, 11 in total, 9 types for hydrating, and 2 types for clarifying, which means the products have you covered for your skin hydration and clarifying needs. And if you're wondering what part amino acids have to play in skincare, this is how; the outermost layer of the skin, is made up of Natural Moisturizing Factor (NMF) which is in turn made up of, yes, you guessed it, amino acids. Amino acids are the key to moist and healthy skin, and because of its little size (1/3000 the size of a collagen molecule), it is highly penetrative, and thus effective on the skin.
There are five different products in the line up, a choice of two lotions (toner) for oily/dehydrated, and dry skin, a milk (moisturizer), a moist barrier cream, and sheet masks, and good news is, all the products in the range are fragrance, alcohol, and paraben free, so they're really gentle on your skin.
Moist Charge Lotion – SGD$25.90
There are two choices for you to pick from for the moist charge lotion / toner – for either oily skin, or dry skin. With my oilier-than-thou skin, I went for Lotion 1, to replenish whatever moisture my skin is lacking!
Lotion I – For dehydrated and oily skin
The water based lotion works into the skin really well, without leaving any sticky or squeaky feel on the skin.
Lotion II – For dry to very dry skin
Seeps into the skin really well and easily, and plumps up the skin, while also refining the skin texture.
Moist Charge Milk – SGD$28.90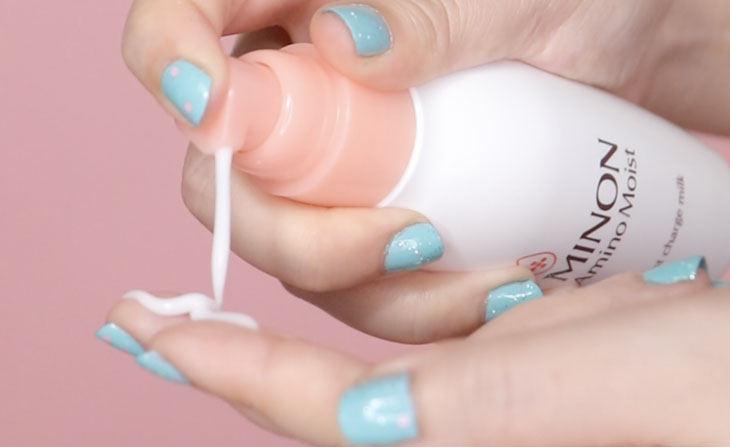 The moist charge milk is a moisturizer for all skin types, with a gel-like texture, which promises all-day moisture on your skin once applied. Despite its less viscous state, it works into the skin pretty easily, leaving you with smoother and softer skin than before.
Moist Barrier Cream – SGD$32.90
For the other dry areas of your skin, and the under eye area – up the moisture quotient with the moist barrier cream, which will help to reduce the appearance of fine lines, and restores the skin's natural lustre by replenishing the oil in your skin.
Moist Essential Mask – SGD18.90 for 4 sheets
The Moist Essential Mask is the most popular item in the Minon Amino series; it was throned Japan's best selling sheet mask for two years straight – and it's not hard to see why. The mask itself was very generously (may I add) soaked with a unique gel serum, which works to deeply hydrate the skin for brighter, softer skin, and reduce the appearance of fine lines caused by dryness. The mask itself adheres and fits pretty well to the face, and I don't experience issues like eye holes being too short, which is a problem I face with many brands of sheet masks even though I don't quite have long eyes. Usually, I'd just tear the corners of the eye holes to widen them a little, but it's just so much easier to have a sheet mask which actually fits instead of trying to customise it to your face.
The amount of gel serum is pretty generous, so, to not waste the goodness, I squeezed it out of the packet and topped it up on the mask, as well as on my neck! Don't neglect the neck area ladies, that's where aging really shows!
Prices: As listed above
Where to buy: Selected  Watsons stores, Tokyu Hands, Nishino, Mediya, Don Don Donki