LANEIGE Delights Pop Holiday Collection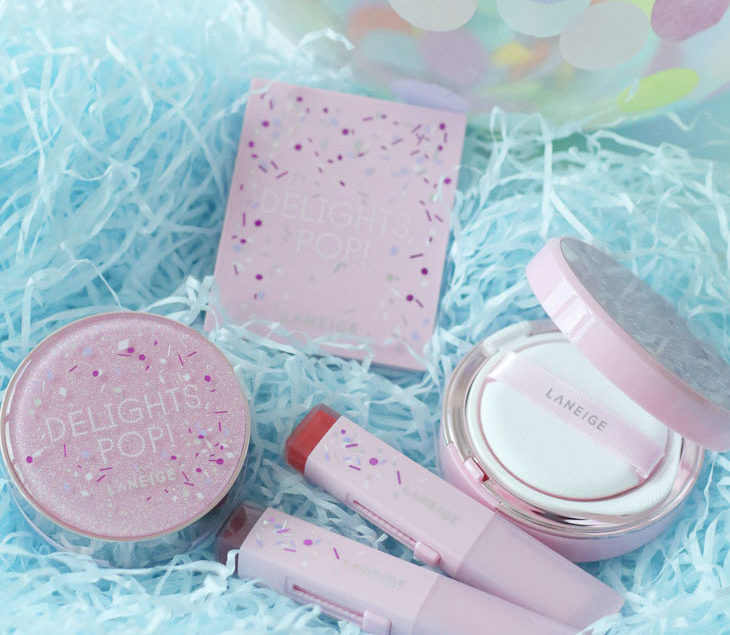 Super psyched about LANEIGE's latest Delights Pop! Holiday Collection! I haven't had a chance to do a properly unboxing video yet, but I just couldn't wait to snap pics of this super cute set and share it on the blog first!
Here's a super brief pictorial of the collection, which comprises an all new cushion blusher, two new two tone tint lip bar shades, a holiday cushion case, an eyeshadow quad, as well as a holiday sleeping mask set.
LANEIGE Delights, Pop! Holiday Collection
Holiday Cushion Blusher – Roly Pink Pop SGD$32 (Limited Edition)
Laneige's first-ever cushion blush! I've always wanted to try out a cushion blush, in the hopes that I'll be able to achieve a translucent pink glow on my cheeks, so this is officially the product from this collection that I am most excited about.
Holiday Ideal Shadow Quad – Flash Gold Pop SGD$42 (Limited Edition)
Remember the 10 new shades of the Ideal Shadow Quads which were launched a couple of months back? This is Laneige's holiday version which boasts a quad of wearable party shades for the year-end festivities.
Holiday Two Tone Tint Lip Bar – Lovely Pop (1) and Chic Pop (2) – $32 each (Limited Edition)
Ah-ha! When you mention Laneige, this is definitely the first product that "pops" into mind (don't mind my pun!) The Laneige two tone tint lip bars were introduced during the holiday season last year to great success, and they're back in 2 new delicious shades – Lovely Pop and Chic Pop, and retail at SGD$32 each!
Holiday BB Cushion_Whitening SGD$59 with one additional refill
Of the three cushion types in Laneige's cushion line-up, the whitening cushion is my favorite. Though I have huge pores which should most certainly be covered, the whitening cushion gives a very subtle brightening effect and lends a radiant glow to the skin which brought it to the top of my list. The new holiday bb cushion boasts the same formula, but in a super cute party themed packaging. The packaging is beyond cute, featuring a glittery pink case with a confetti print on it, and I like it even more than last year's Milky Way Fantasy packaging, which says quite a lot.
Prices: As listed above
Where to buy: The Delights, Pop collection is now available islandwide, at all Laneige counters, boutiques, Lazada, and Singapore.