Review: Lululun ONE Masks
So by now, I guess I have established myself as a strong advocate of daily masking, especially with my favorite daily masking brand, Lululun. Now, Lululun is back with another range of premium serum masks, the Lululun ONE masks in two different variations, and are intended for once or twice weekly usage.
About Lululun ONE Masks
The masks contain beauty serum, which is also known as micro-emulsion, which is a new technology that infuses water and concentrated essence into micro-oil to prevent the goodness from evaporating into the air, and delivering that goodness right into your skin!
The masks are also packed with top grade ingredients like Apple & Grape Stem Cell Extracts, as well as Brightenyl, which can together repair and replace damaged, aging, or dead cells.
Brightenyl is a skin melanin regulator which contains 4 times more antioxidant properties than Vitamin C, and it works to restore an even skin tone by blocking the pigmentation process.
Apple & Grape stem cells work to boost production of human stem cells and create a protection barrier against UV rays & free radicals, slowing down the signs of ageing, like dark spots and wrinkles. They also help to inhibit production of melanin in the skin, which means a fairer skin complexion, as well as smoother, more moisturised skin! Yay!
My Review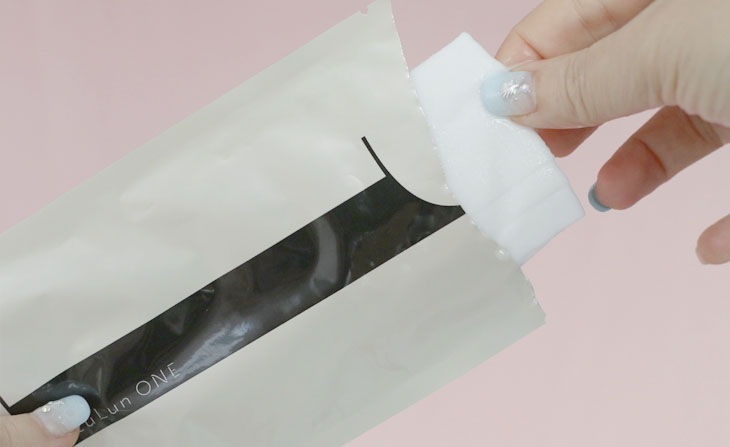 Now, onto the masks themselves! At first glance, it's clear that the masks are different from the Lululun daily masks that I've grown so used to. The Lululun ONE masks are a lot thicker, as they have a 3 layer structure, which helps the rich beauty essence penetrate into the skin more easily.  The new sheet mask design also boasts a 176% increase in coverage around the eyes, and 300% increase in coverage around the lip, which means you cover a wider surface area with this mask!
The material of the sheet mask is 100% Microfiber Cotton which means that the masks will fit snugly and stick to your face, no matter what you're doing. (Well, unless what you're doing is taking it off! or maybe skydiving) The thickness of the sheet mask was also upgraded by 30%, compared to Lululun's Daily Masks, meaning that it contains more serum, which means more goodness for your skin, and more bang for your buck!
There are two variations – The ONE Moisture Mask 5s ($29.90) which is suitable for Dry skin to Mature Skin, and the ONE White Mask 5s ($29.90) which is better suited for Dull to Mature skin types.
The mask sets are now available in all Watsons stores, and for now you will get to receive a limited edition Lululun Eye Mask with any purchase of either of the box sets!