Review: Mary Kay Clear Proof Acne System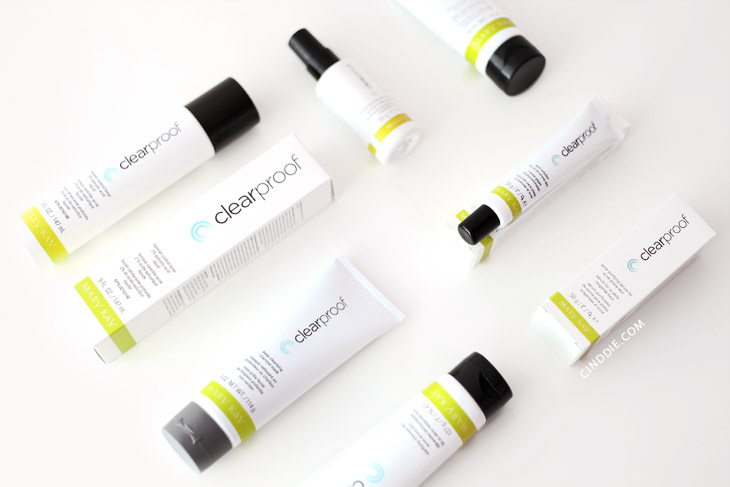 Mary Kay Clear Proof 
It's not very obvious, (mainly because I take so many steps to cover them up) but I've been battling a serious pimple problem of late. Those damned blemishes just take turns to pop up on my chin, and along my jawline, and every time I manage to get rid of one, another one pops up (like one of those whac-a-mole games you play at the arcade).
I've been pretty frustrated by it, but somehow they seem pretty easy to cover with makeup, and so I haven't actively sought out ways to fix this pimple problem (I wouldn't call them acne just yet) once and for all.
Some background on me (and my skin); I used to be a pimply teenager and I'm very much prone to breakouts when I'm stressed or hormonally imbalanced (the latter is usually manifested through crazy eyes and raised voices). I can safely say that I've never encountered a miracle product that really worked on me The most effective method I used, was drying my face out – under my family doctor's instruction, I washed my face with old school bar body soap, applied a really drying topical acne lotion, and waited it out for my skin (and pimples) to flake away. It took about 2-3 weeks of looking like a flake chocolate bar, but after that my skin became pretty good!
I was gifted Mary Kay's Clear Proof Acne System to try out, and within the set was also their latest product, the Deep Cleansing Charcoal Mask, that I was really excited about. I LOVE clay/charcoal masks, as well as those black ones that rip your face off because they just seem to really work! The more pain, the better. (I'm a sadist, I know.) Anyway, back to the set – I've heard so many good things about Mary Kay's acne skin care range, and was really excited to see how they'd work on my chimples. (chin-pimples, you know).
The good news was – I just developed a new pimple on my jaw (the cystic type which never surface and take like months to go away after much squeezing) and I thought it was the perfect time to put this system to the test.
I started off with the cleanser, toner and moisturiser on the first day, and the good thing is that the products were all scent free. I know I've mentioned before that I like scents in my skincare and makeup products, but most products targeted for acnes/pimples have a medicinal or strong tea tree kind of scent that I don't particularly like.
Clear Proof Clarifying Cleanser
for Blemish Prone Skin
The cleanser was a clear, watered down gel like texture, and using it was pretty straightforward. Just apply on your skin and lather up with water. My skin felt pretty thoroughly cleansed after using it, and it didn't leave my skin feeling too squeaky clean, dry, or tight. I've read reviews that it was a bit drying, but it was okay on my oily skin.
Clear Proof Blemish Control Toner
This toner is what I remember toner to be, before water toners from the Korean beauty brands came in and changed its definition. Possibly because of my pimply teen past – I was always used to using toner which contain ingredients like Salicylic acid and benzoyl peroxide. Anyway, slapped this toner over my face with my bare hands, and felt a slight sting on my open pimple wounds and thought "Yup, this is good"
NEW Clear Proof Oil-Free Moisturizer
for Blemish Prone Skin
The moisturizer is very light, and worked into my skin really easily. It didn't seem remarkable on first impression, but I did notice that my skin is less oily after using this! My skin is usually oiled up within one to two hours, but remained relatively oil free for about four hours after using this moisturizer.
NEW Clear Proof Deep-Cleansing Charcoal Mask
Of the products I tested, this one has got to be my favorite. So remember how I mentioned that I got one of those icky cystic pimples swelling up under my skin just as I trying this set out? Usually it would take weeks of slowly squeezing (and sometimes even more when I falter between squeezing it and leaving it alone) before it would go away (not without leaving its mark, of course).I slapped on this mask, not really expecting much from it for some reason, but get this, about an hour or so after washing the mask off, that damned zit reared its ugly head!!
The mask had a nice runny texture, which made it really easy to apply and spread on the skin. You know how some clay masks are a bit gunky, or are stickier in texture which make them a pain to apply? Nope, this wasn't like that at all. A few minutes after applying, it started to dry in a "non-tightening" kinda way. It didn't pull or tug on the skin like how some masks do when they dry, and I just scrubbed it off with warm water and my face loofah. My skin felt really soft after washing it off, possibly thanks to the loofah as well.
Update after a week of using the products
After using the entire range for about a week, I noticed that, yes, the entire set used together on a regular basis can be a little bit drying for the skin, because the skin along my jawline is looking pretty dry, but on the other hand, my skin hasn't looked better in quite a while despite the apparent dryness.
So here's my advice – try to ease your skin slowly into this regimen so you won't overwhelm it. Start by working the cleanser, toner, serum and moisturizer into your skincare routine once a day, for a couple of days before moving on into using it for both day and night.
The most drying product of the lot should be the spot treatment, since that is the only product that I used on localized areas only (as compared to the other products which were used all over), so do use the spot treatment in moderation, only active spots only. This will dry those zits right out, and give you clear, happy skin.
Does it work?
Of all the products, I liked the deep cleansing charcoal mask, oil free moisturizer, and the clarifying cleanser the best. Within a week, I can safely say that these products produced visible results!
MaryKay Clear Proof Acne System Prices
Clarifying Cleanser for Blemish-Prone Skin SGD 35 / 127g
Deep Cleansing Charcoal Mask SGD40 / 114g
Blemish Control Toner SGD30 / 147ml
Pore-Purifying Serum for Blemish Prone Skin SGD35 / 50g
Spot Solution for Blemish Prone Skin SGD23 / 29g
Oil Free Moisturizer for Blemish Prone Skin SGD35 / 88ml
Where to buy:
Available through Mary Kay independent consultants from 1st July onwards (T:6226 6888)