NYX Faux Blacks Liner Review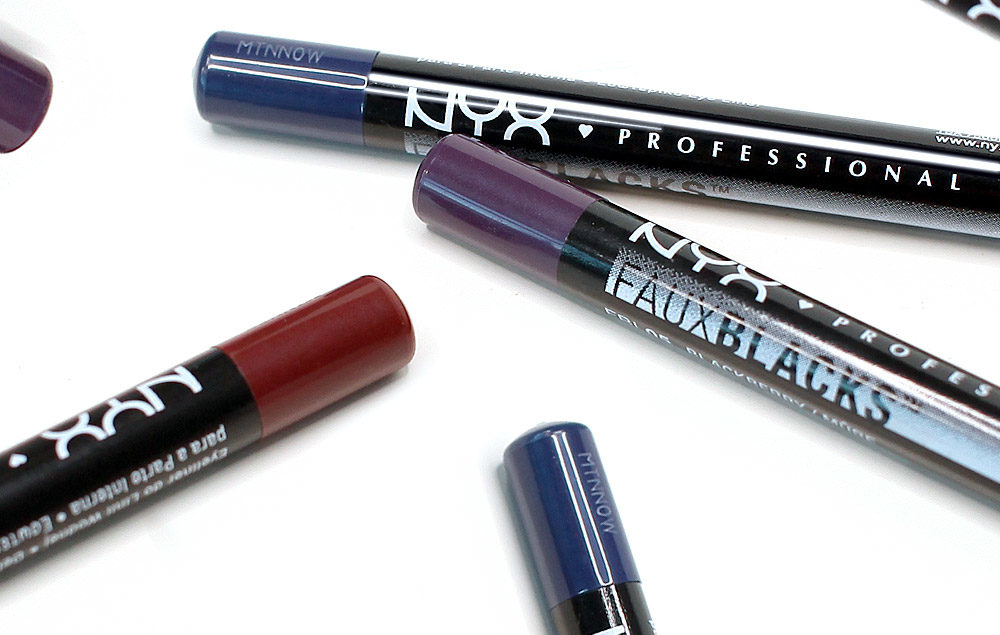 Review – NYX Faux Blacks Liner
Put a bold twist on your classic eyeliner looks with NYX's Faux Blacks liner.
Available in eight stunning, exquisite shades with black undertones, these deep jewel toned eyeliners will add some serious glamour and take your eye makeup look to the next level.
Jewel shades are Gorg!
The creamy formula of the liner makes it a breeze to apply on the skin, while the intense pigment lends some understated drama to your classic liner look, for a perfect wink of color. The color is intense, with just one swipe, and goes on beautifully on the skin. The deep jewel-toned shades are beyond amazing, and are very wearable for everyday use.
I must say – I'm in love with the naming convention of these pencils, with names like Obsidian, Onyx, and Burnt Sienna. I received 3 shades, in Oxblood, Blackberry and Midnight, and here's how they look on the skin!
Blackberry – A dark purple-brown
Midnight – True to it's name, a deep, dark blue
Oxblood – a medium reddish brown, with a hint of rust
Price: $16
What I think:
Great color payoff. Great names. Very easy to apply. Can use daily. I absolutely love them.
How to use:
Use it as a base on the eyelid, to intensify a smoky eye, or add a hint of color to a monochromatic look with a matching shade.
Where to buy: NYX Professional Makeup stores & Sephora
NYX Faux Blacks Liner Colors: 
BLACK HOLE – DARK PURPLE, OXBLOOD – DARK RED, MIDNIGHT – NAVY BLUE, BLACK OLIVE – DEEP OLIVE, BLACKBERRY – DEEP AMETHYST, BURNT SIENNA – DEEP BURGUNDY, OBSIDIAN – DEEP INDIGO,   ONYX – DEEP TEAL
Tags: nyx faux black swatches, nyx faux white swatches, nyx faux black eyeliner swatches, nyx faux black obsidian, nyx faux black oxblood, nyx faux black eyeliner review, nyx faux white eyeliner, nyx faux black review