Mamonde Cover Powder Cushion Review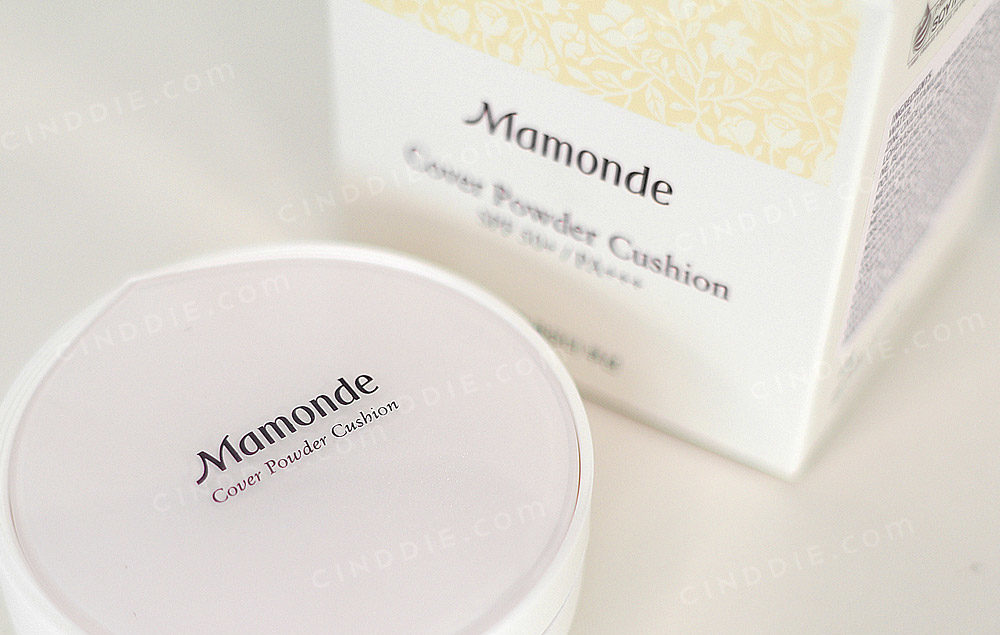 Trying on the Mamonde Cover Powder Cushion
Hey girlies! Today we've got the Mamonde Cover Powder Cushion. It's a bb cushion foundation with "peach blossom powder" for radiant skin and a "concealer formula" for high coverage of flaws.
Mamonde is a South Korean beauty brand under Amore Pacific (parent company of Laneige and Etude house). For those of you who've never heard of Mamonde, the brand has been around since the '90s so they are like, legit.
"As light and radiant as flower petals, but with flawless coverage without a concealer. Suitable for all skin types." – Mamonde website
I honestly am pretty excited to try this bb cushion out, just to see if the peach blossom powder works to provide a very radiant finish.
The Mamonde brand slogan is "Inspired by Flowers" and it's apparent in their packaging design and ingredients.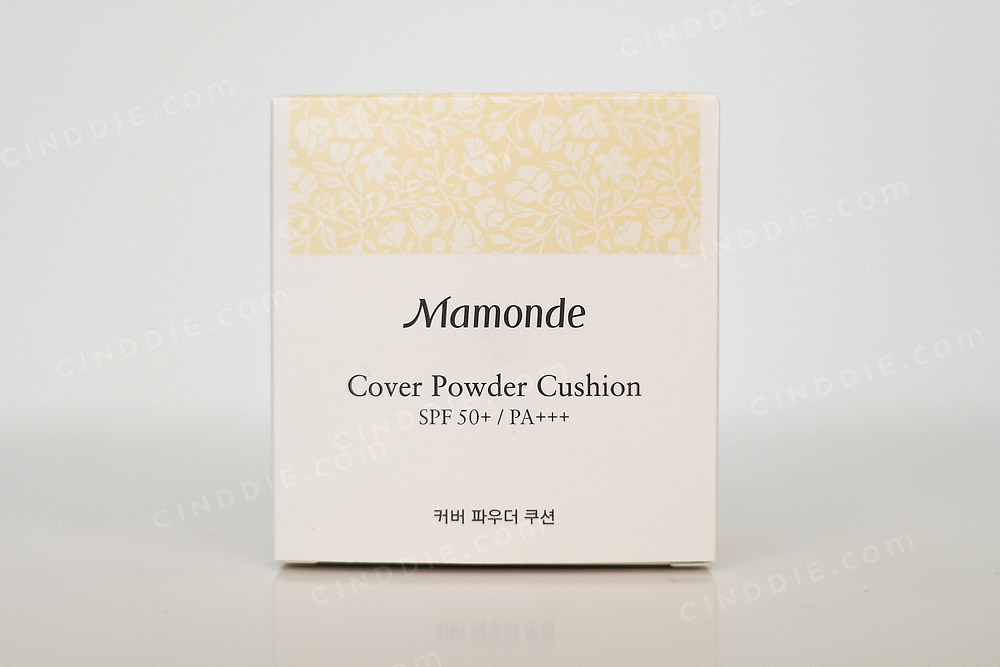 SPF 50+ / PA+++ gives you all the protection you need from the sun. Yes please!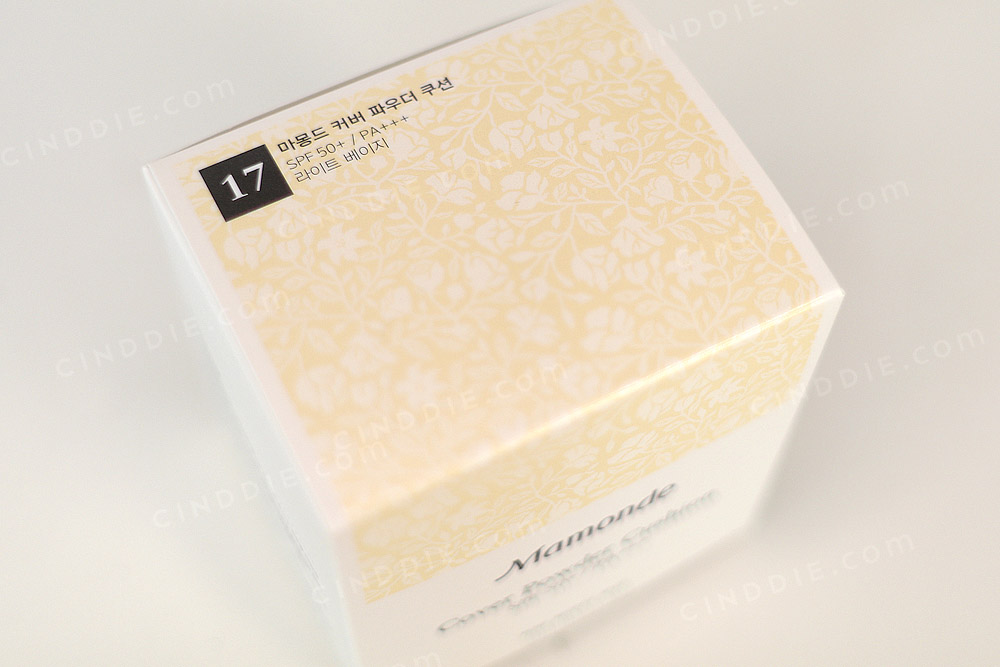 The Cover Powder Cushion comes in 3 shades: 17 light beige, 21 peach beige and 23 natural beige.
Peach Blossom powder for radiant skin and a concealer formula for imperfections… very interesting. So basically like an all-in-one foundation?
List of ingredients in the Mamonde Cover Powder Cushion. For the allergic types.
In the box you'll find a 15g cushion housed in the cushion casing and an additional 15g refill pack.
The cover has a really pretty pearlescent finish with a shimmery, glittery top, and it's curved at the bottom edges so it fits really easily and comfortably in the palm.
I really do like the design of the cushion case, it's very… can I say..ergonomic?
The mirror makes up the entire circumference of the inner casing. Big enough to actually see what you're doing.
Skin swatch of shades 17 (bottom) & 21 (top). The Mamonde Cover Powder Cushion is currently available in 3 shades, 17, 21 and 23, for very light, light, and medium skin tones. The two shades look very similar in the photo above but on the face, it's obvious, so take some time to get the right shade. The bb cushion also has a very refreshing floral scent to it, which I really like, and its consistency is a little bit thicker than the other cushions, and I guess that's because of the concealer formula that's in there.
Going to attempt to cover this ginormous zit and it's gang of blemishes. Urrgggh!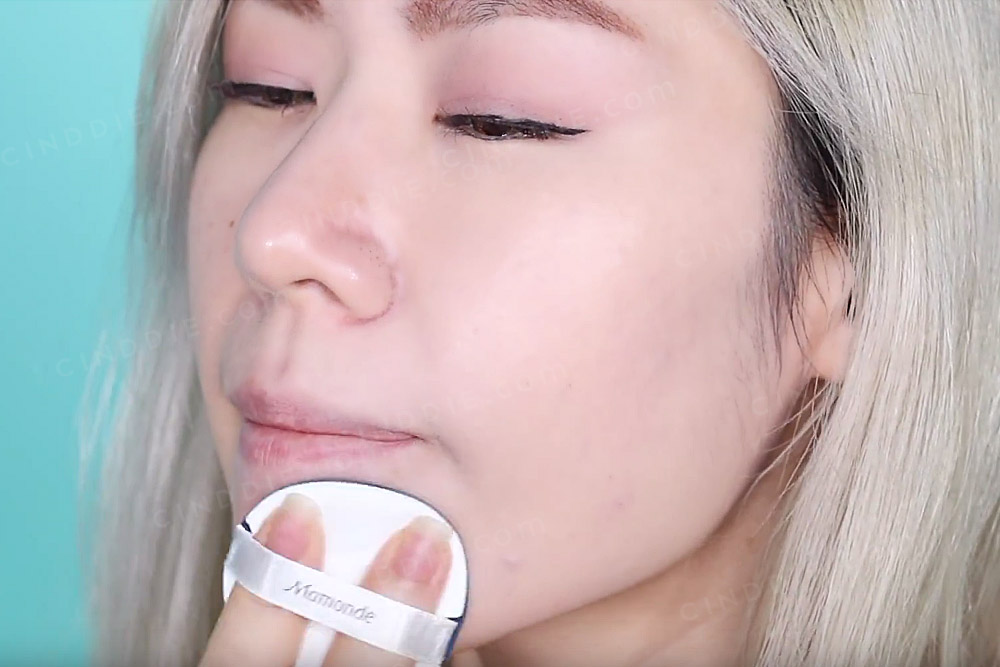 Two layers of the "cover" powder cushion and that EFFING pimple is banished, not forever, but I'll deal with it later. Guess that "concealer formula" kinda works huh?
After application. Cheeks are with the Mamonde Cover Powder Cushion and blush only.
Watch the entire video on Youtube here -> Mamonde Cover Powder Cushion Review
Final thoughts…
The coverage is pretty good, and it gives a matte finish, unlike most of the other cushions which tend to give a more dewy finish. Does it cover imperfections? Most definitely. Does the peach blossom powder work as claimed? I think so! I did  noticed a radiant peachy undertone from shade 17 and I'm going to assume it works. If you like high coverage foundations but prefer the application process of a cushion, this is for you. All in all, really not bad for a mid priced item.
Where to buy?
The Mamonde Cover Powder Cushion retails in Singapore for $44 (with refill incl.) 15g Refills are priced at $22. You can buy Mamonde products on Lazada.sg
---
Related Reviews
Laneige BB Cushion
Sulwhasoo BB Cushion
---
Mamonde Cover Powder Cushion Description
A BB cushion that contains peach blossom powder for radiant skin and a concealer formula to flawlessly cover flaws.
---
Mamonde Cover Powder Cushion Directions of use
After basic skincare, use with or without makeup base. Apply an appropriate amount on the puff to dspread thuinly over face and gently pat to finish. You may apply more to correc t makeup in the afternoon.
---
Mamonde Cover Powder Cushion Caution
Discontinue use if the following signs of irritation occurs after use, and consult a physician if it lasts. 1)Redness, swelling, rash, itching, irritation or any other troubles. 2)If direct rays of sunlight lead to irritations as noted above. 2. Do not use over wounds, rashes, inflammation or other troubled areas. 3. Do not stay too long in the sun, even while using a sunscreen product. 4. Re-apply frequently to maintain protection, especially after sweating, swimming or toweling. 5. The use of sunscreens is one way to reduce the dangers from sun exposure. 6. Instruction for us to ensure sufficient quanity is applied. Always close cap after use. 2) Keep out of reach of children. 3) Do no store in high or low temperatures, or in direct sunlight.
---
Mamonde Cover Powder Cushion Ingredients
WATER, TITANIUM DIOXIDE (CI 77891), CY CLOPENTASILOXANE, ZINC OXIDE (CI 77947), ETHYLH EXYL METHOXYCINNAMATE. CYCLOHEXASILOXANE, EG-1O DIMETHICONE, PHENYLTRIMETHICONE, BUTYLEN E GLYCOL DICAPRYIATE/DICAPRATE, IAU RYL PEG-9 POLYDIMETHYISILOXYEFHYL IMETHICONE,ARBUTIN, HDI/TRI-METHYLOL H EXYLLACI' ONE CROSSPOLYM ER, TRIMETHYISI LOXY-SIUCATE, METHYL METHACRYLATE ROSSPOLYMER, GLYCERIN, DI-METHICONE. DIMETHICONE/VINYL DIMETHICONECROSSPOLYMER. DISODIUM EDTA, DISTEARDIMONIUM HECTORITE. LECITHIN, PRU-NUS PERSICA (PEACH) FLOWER EXTRACT, SODIUM CHLORIDE, SO-DIUM HYALURONATE, STEARIC AOD, SILICA, ADENOSINE, ACRYLA-TB/ETHYLH D(YL ACRYLATE/DIMEI'HICONE METHACRYLATE COP-OLYMER, ALUMINUM HYDROXIDE, ETHYLHEXYLGLYCERIN, ETHY-LHEXYL PALMITATE, ALCOHOL, ISOSTEARICACID, ISOPROP'YL PAL-MITATE, CAPRYLYLGLYCOL, TRIETHOXYCAPRYLYLSI LAN E, PH EN-OXYETHANOL. POLYGLYCERYL-3 POLYRICINOLEATE, POLYHYDROXYSTEARIC ACID, IRON OXIDE (CI 77492), IRON 0X|DB(CI 77491). IRON OXIDES (CI 77499), FRAGRANCE