Laneige Water Glow Gel Foundation Review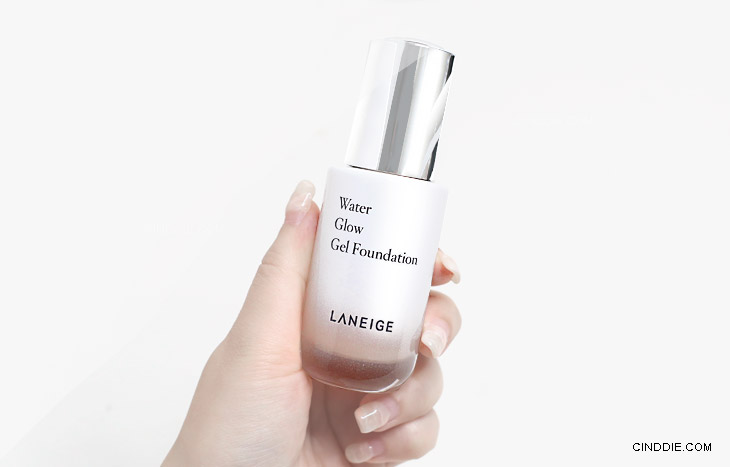 Hello, ladies! Today we're going to take a look at the LANEIGE Water Glow Gel Foundation – a high adhesion water gel foundation that's supposed to make your skin look clear and radiant, just like a baby's skin! or so Laneige says.
What it is
Water based foundation. SPF 41 PA++. All skin types. 5 shades available. Light coverage. Matte dewy mix finish. Can be layered/buildable. 35ml/38,000 won/SGD$59
Let's start the review with the box. I absolutely LOVE the holographic print detailing. Adds a touch of class to an otherwise plain grey base box.
Like the Laneige Water Glow Base Correctors, the Water Glow Gel Foundation comes in a palm sized glass bottle with a chrome pump applicator and a chrome cap.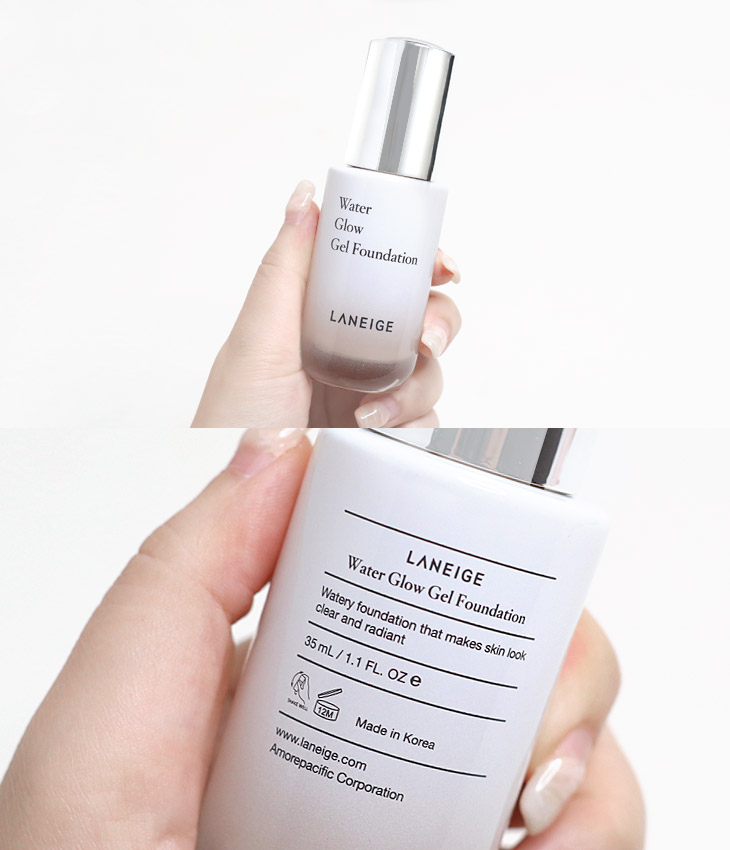 The LANEIGE Water Glow Gel Foundation is a foundation that contains 70% moisture and also supposedly adheres really well to your skin allowing you to apply layers without it looking cakey.
I am using shade 13 Ivory. The foundation is available in five shades – 11, 13, 21, 23 and 33. I got a little tanned during my Europe trip (got caught smack in the middle of a heatwave) so 13 Ivory was a little too light for my skin. Hopefully I lighten back and I'll be able to put this gel foundation to good use!
The water based gel formula, containing 70% moisture/water feels great and light on the skin.
Before and after. The dewy finish you see above diminishes over a few minutes. Feels like a light layer of moisturizer or sunscreen.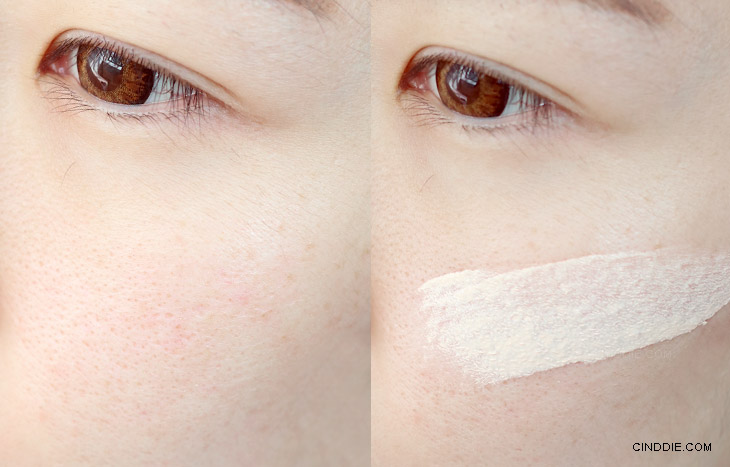 Now let's see if this light foundation is able to hide my huge pores and scars from all my picking. Just like all of us lazy girls, I used my bare fingers for the application, rubbing it into my skin without a care in the world. If you want a more proper finish, use a blender or foundation brush.
The Laneige Water Glow Gel Foundation finishes moist and dewy but dries to a low matte finish. It smoothes out my pores, giving a pretty nice even finish.  To be fair, I didn't prep my skin before applying the gel foundation in the image above – no moisturizer, primer, nothing, so it appears a little patchy in the image. (And to be really fair, my skin has been in a crappy, rebellious state of late and I'm working on getting decent skin back again.) I did try it on again with the full skin prep before hand and it worked out beautifully, so, to avoid the patchy mess above and conceal your larger pores, use a primer and the right shade of foundation. Finish up with powder, some blush and you're good to go!
The Laneige Water Glow Gel Foundation isn't exactly cheap, but it does what it says on delivering a brighter skin while covering flaws, resulting in a glowy soft finish.
Good for
Those looking for a lightweight low cover foundation (you can layer for more coverage but don't count on it).
Shades
11 Porcelain, 13 Ivory, 21 Beige, 23 Sand, 33 Cinnamon
Laneige Water Glow Gel Foundation 35ml/38,000 won/SGD$59. Available at all LANEIGE retail points and authorized online resellers.
—
If you've got questions, leave me a comment below! Follow me on Instagram @cinddie! I'd be delighted to have you on my beauty journey!
Laneige Water Glow Gel Foundation Review