Crabtree & Evelyn Overnight Hand Therapy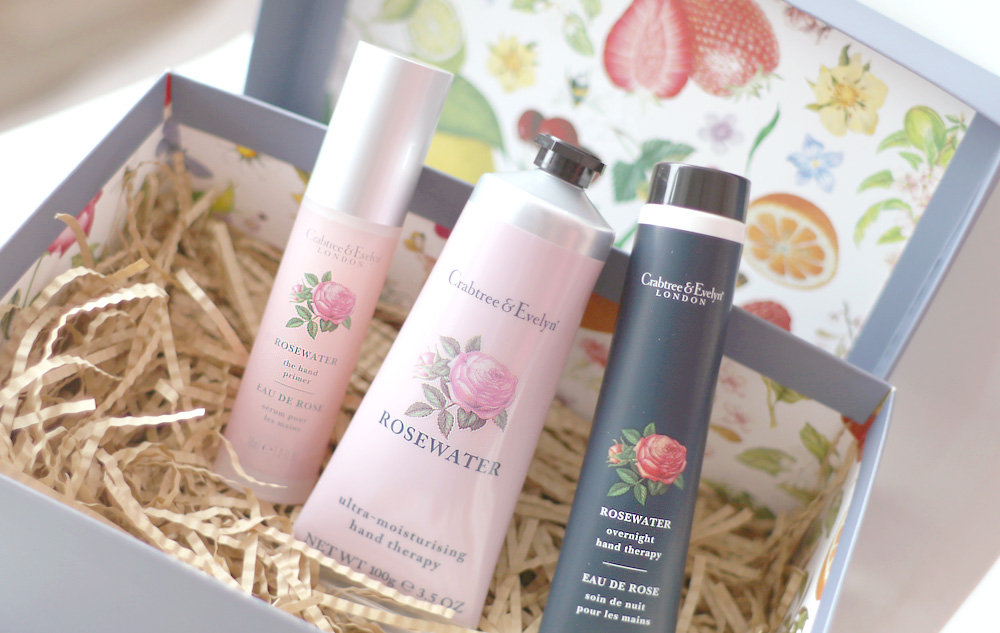 The first part of the year just flew by like I have no idea how, and in the wink of an eye, we're almost in May. And you know what that means, yup, Mother's Day. It's time to celebrate our mothers for all the suffering we've put them through (well, at least I know mine did, I was an insufferable child. My dad used to call me "The Menace", as in, "Dennis the Menace").
I've been sitting on this post for a while, because, to be frank, I'm not quite sure how to review skincare products, especially since I'm not a big lotion / moisturizer / skin care person myself (cue the gasps) – I've just always been too lazy to slather on products, but once in a while, when I do, it feels like such a big treat! Creams and lotions also feel rather inconvenient and I'm thinking back to my cheerleading days when I would ask my flyer – "WHY ARE YOU SO SLIPPERY?", "CAN YOU, LIKE, DON'T BE SLIPPERY NEXT TIME?"
But anyway, this post is not about me – and I can't fake this coincidence, but my mom LOVES Crabtree & Evelyn. Every year, for the past 5 years or so, she would gift her church mates Crabtree products for Christmas, and she was practically salivating when she saw me come back home, the iconic Crabtree paper bag in hand, kinda curious about what I've got in there while still trying to play it cool in case it was a gift for her.
So Crabtree & Evelyn recently added two new products to their hand care collection – an all-new anti pollution hand primer, and an overnight hand therapy cream. I was very kindly gifted a set of hand care products to try out, and these will definitely go to my mum for Mother's Day because I know how much she would appreciate these goodies. Plus, this makes a perfect 'Mom' gift, don't you think? There are a few things that I've noticed most moms are obsessed with, and that's body lotions, hand creams, and tupperware/cookie jars/ corningware, and to make it even more the perfect gift, top it off with a nice wrapper and ribbon that can be reused (I kid you not, I have done in depth and comprehensive research in this psyche, with a focus group of one – my mom).
Anyway, more on the products!
CRABTREE & EVELYN ANTI-POLLUTION HAND PRIMER (SGD$38 for 30ml)
This new concentrated hand serum is formulated with Anti-pollution shield, a protective barrier which helps to prevent damaging particles from adhering to the skin, thus creating a breathable invisible shield of some sorts for the hands in the meantime.
Enriched with probiotics, the new hand primer's formula includes five botanical acids; Bilberry, Sugar Maple, Sugar Cane, Orange and Lemon, which all work to give your hands that smooth, soft and supple feeling.
Availability: In 6 scents from 31st March onwards at all Crabtree & Evelyn boutiques
How to use: Since this is a primer, this goes on before applying your other hand care products for the day!
CRABTREE & EVELYN OVERNIGHT HAND THERAPY (SGD$38 for 75g)
Specially formulated to work its magic overnight, the overnight hand therapy contains a complex of vitamins and amino acids, including Arginine (an antioxidant that aids in collagen production). This product is particularly great for dry skin/hands, as it enhances the skin's natural barrier to retain moisture where it belongs.
Availability: In 6 scents from 31st March onwards at all Crabtree & Evelyn boutiques
How to use: Apply this to your hands before bedtime, and let it work its magic while you snooze!
These are available at all Crabtree & Evelyn stores, and I've listed their locations down below. Follow them on their social media accounts to get updates on their latest products and promotions!
Crabtree & Evelyn
Facebook: http://www.facebook.com/CrabtreeEvelynSG
Instagram: @CrabtreeEvelynSG
Website: http://www.crabtree-evelyn.com.sg
CRABTREE & EVELYN STORE LOCATIONS
Takashimaya S.C. Ngee Ann City #B1-36/36A
Bugis Junction #01-14
Jem #01-60
Junction 8 #01-42A
Paragon #B1-26
Parkway Parade #01-07
Plaza Singapura #01-58
Raffles City Shopping Centre #B1-29
Robinsons, The Heeren, Level 1
Suntec City Maill #01-320
Tampines Mall #01-31A
The Star Vista #01-03
Vivocity #01-09