LANEIGE Fresh Calming Line Review
Just when I thought that Laneige couldn't impress me any further, they went and knocked one right out of the park with their new Fresh Calming Line.
About the LANEIGE Fresh Calming Line
The Fresh Calming Line is perfect for oily skin that lacks moisture. Formulated with natural litchi (lychee) extract and deep sea water, it works by soothing irritated skin and restoring a healthy skin balance with natural moisture. The key ingredients work together to reinforce the natural protective function of the skin and increase skin resistance, taking care of the skin from inside out.
Packaging
First of all, the packaging is on point – super cute peachy pink ombre bottles with their signature LANEIGE logo emblazoned on the front, and don't even get me started on well it works on the skin.. and the scent!
Products
There are four products in the line up; cleanser, toner, serum and morning mask.
LANEIGE Fresh Calming Gel Cleanser
First up is the Fresh Calming Gel Cleanser, $30, 250ml. The cleanser comes in a large pump bottle – which I've mentioned that I really appreciate because it's, firstly, really easy to dispense, and I don't feel like I'm dirtying my hands/or face while I fiddle with the packaging.
The product is a clear gel, which is very mild and gentle on the skin. It works into a leather fairly easily, and leaves the skin feeling moist and plump after cleansing.
LANEIGE Fresh Calming Toner
Fresh Calming Toner – 250ml S$40. The oil-free, alcohol-free toner comes in a large 250ml bottle, retails for SGD$40, and it's one of my favourites from this range.
The scent is, beyond amazing, and what I like to do is to tap the product directly onto my face using my palms, and cup my hands over my nose for a bit to just sniff all that lychee goodness.
The toner is really gentle, refreshing on the skin, and left my skin feeling soft and hydrated.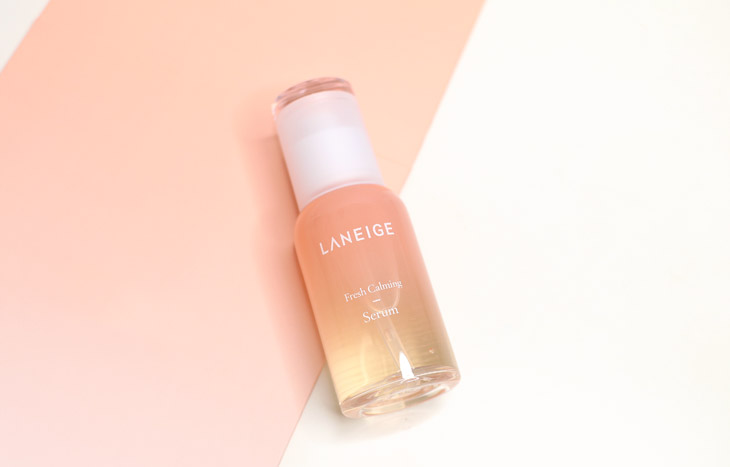 LANEIGE Fresh Calming Serum
The Fresh Calming Serum comes in an 80ml bottle and retails for S$48.
The serum comes in a pump bottle as well, with a cap, so my first impressions of this product is already looking great for a start. It's easy to dispense, and out of the bottle, it's a clear low-viscosity gel which melts into the skin really well.
I usually like products which feel like they are working (some kind of stinging or pain is usually involved) but this range is so gentle yet nourishing for the skin and it's really making me rethink my skincare preferences.
LANEIGE Fresh Calming Morning Mask
Fresh Calming Morning Mask – 80ml/S$38. This leave-in mask is my second favourite product of the entire series – it's quite fun, instead of a standard gel or cream, the product is housed in a spray can, and dispensed as a mousse which works into a clear serum/gel texture.
The morning mask is meant to be used after cleanser, toner, and serum; just spray a quarter sized amount onto your hand and apply on your face, leaving it on for a minute before tapping the mask thoroughly. The mask absorbs into the skin really well, leaving the skin smooth and ready for makeup!
Prices:
Gel Cleanser $30, Toner $40, Serum $48, Morning Mask $38
Is it worth buying?
The items in this range do work as promised – calming irritated skin and improving the skin condition from inside out, as it did on my currently breaking-out skin, and my favourites of the lot are the toner and the morning mask. In my opinion – the toner, at SGD$40 for such a large bottle, is a must buy!
Where to buy:
At all Laneige boutiques, counters and authorized online retailers.