Acnes Derma Relief Skin Care Line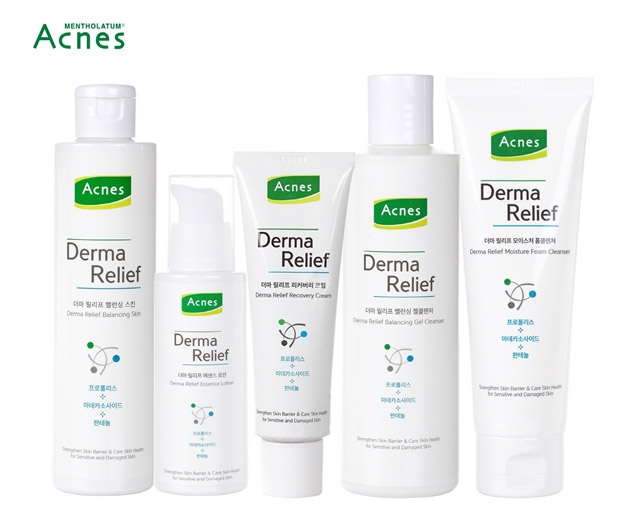 Acnes Derma Relief Skin Care Line
Metholatum Acnes, a skin care brand specializing in fixing troubled sensitive skin, has launched five new Derma Relief products, in a skin care range that aims to calm sensitive skin and restore your skin's natural health.
The new Acnes Derma Relief skincare range is available in five different forms: Recovery Cream, Balancing Skin, Essence Lotion, Moisture Foam Cleanser and Balancing Gel Cleanser.
The Acnes Derma Relief Line's key ingredients are Madecassoside, which provides some sort of anti-aging and skin healing, Panthenol for soothing and moisturizing skin, and propolis extract that strengthens the skin barrier.
Acnes Derma Relief Key Ingredients
Propolis Extract – Strengthens the skin barrier and nourishes the skin's natural strength, making the skin healthy and firm.
Madecassoside – Anti-aging and skin healing of damaged skin
Panthenol – Soothes sensitive skin and provides a moisturizing effect to make your skin soft and healthy.
Derma Relief Recovery Cream is a foundation skin care product that effectively treats damaged and sensitized skin as well as strengthens the skin's natural strength. Panthenol, Madecassoside and Propolis ingredients soften and firm skin at the same time.
The balancing skin is a toner that is excellent for skin care, and the essence lotion balances your skins moisture and nourishes it for a healthy skin.
The Moisture Foam Cleanser and Balancing Gel Cleanser, are a low acidity cleanser for pH balance, gently removing dead skin and other impurities while keeping the skin moisturized.
Acne's new Derma relief line can be found at H & B stores such as Watsons, online malls, and large-format marts in Korea.