Dazzle on with Kate Tokyo's Spring Summer 2017 Collection
Kate Tokyo recently launched their latest spring summer 2017 makeup collection, and with sparkly eye shadows and lip glosses, this collection is giving me a serious case of nostalgia. I don't know if it's just me, but I, honest to god, have not used a lip gloss from a squeeze tube for the longest time, and man, do I miss it! Actually, now that I think about it, I also haven't used gloss in quite a while, but hey if you haven't heard, the glossy lip look is baaack!
I was very kindly set a set of the new items to review, and here are the goodies I received;
Kate Metal Glamour Eyes $23.50
Available in 6 shades, each palette contains 3 pans of subtle shimmers, and 2 "dark metallics" which has larger grained glitters, for that twinkling big eye effect.
BR-1, BR-2, BR-3
There are 3 brown eyeshadow palettes in this collection, with BR-1 being more champagne-toned, BR-2 has peachy, golden toned shadows, and BR-3 contains cooler, silver-pink shades.
The other 3 palettes are BU-1, with cool, silvery blue shades, RD-1 has deeper rosy nudes and browns, and PK-1 is my favorite of the lot with pretty pink and lilac glittery shadows.
Kate Super Sharp Liner EX $17.90
I must confess, I LOVE the design of this liner! The nonagonal design of the pen body looks like something right out of a designer label, and its multi faceted cuts make the pen really easy to grip and use!
Its fine-tipped brush was jointly developed with Pentel, and can even be used to draw on eyelashes if you want a more dramatic eye makeup look.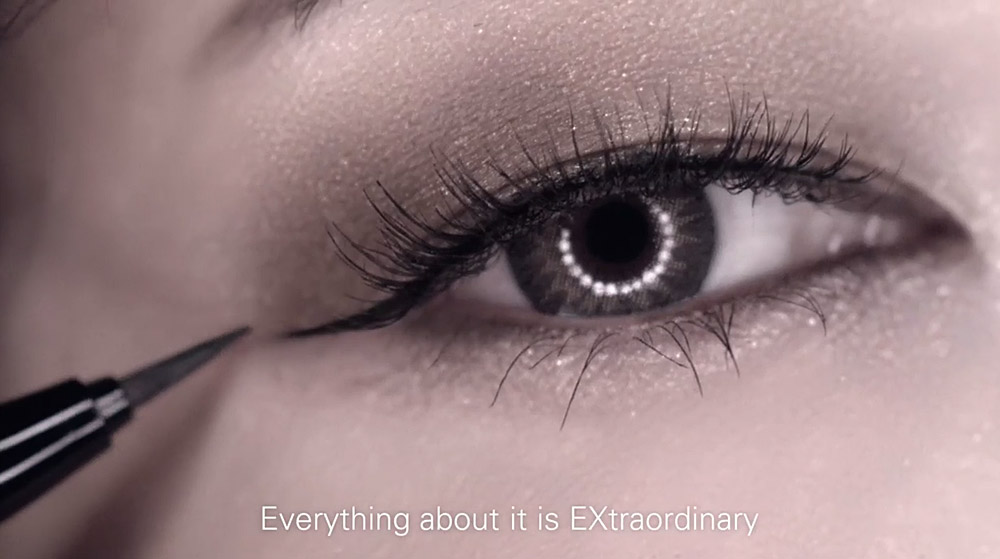 Did a rub test of the liner on my hand, and it remained largely smudge-proof despite me frantically rubbing my fingers over the line I drew.
Kate Glamorous Lash $23.50
This is a dual mascara which opens up on both ends; on one end, you'll uncover a curved wand which adds va va-volume to your lashes, and on the other, a volumizing fiber base to give your lashes that extra oomph they need.
While I have generally long eyelashes for an Asian, my eyelashes are really thin and poker straight. Most mascara formulas don't work for me because they're too heavy for my lashes and they end up drooping like Snufflelaphagus. With this mascara, I have no problems with curling my eyelashes, even with the added volume, giving me my long coveted "wet-eyelash-after-crying" look. (I know. I'm weird.)
Kate Color Enamel Gloss $7.50
It has been a long time since I've touched lip glosses, especially those that come in little squeezy tubes like these ones.
Frankly, I got a little over-excited with these as they remind me of my first foray into makeup as a teen! There are 6 shades for this lip gloss, which all look very wearable to me!
The lip gloss is developed with moisturizing ingredients like jojoba seed oil, almond oil, and olive fruit oil for luscious looking lips, and it comes in a tube with a slightly diagonal tip for easy, fuss-free application. The gloss gives a hint of a colour which you can layer if you want a more pigmented look with higher shine.  The lightest pink shade adds the slightest touch of pink to the lips, which is perfect for that no-makeup-makeup-look! (Come on, we all know that's totally a thing!)
Prices: As listed above
Where to buy: Watsons, Sasa, Fairprice Xtra and selected Fairprice Finest stores from May 2017 onwards
Is it worth it: Definitely yes for the mascara, and the lip glosses.
At $23.50, the mascara is really quite good value for money, and it's very suitable for finer Asian lashes.
The lip glosses at $7.50 a pop, is a fun product to have in your beauty arsenal, and with the highly glossed lip trend coming back around this year, every girl should have one in her makeup bag.