[REVIEW] Etude House Lip Rich Vivid Tint
Lip Rich Vivid Tints
Etude House is back again with yet another sweet addition to their current product line up, and I'm so lucky I got a set to review and swatch!
The Etude House Lip Rich Vivid Tints are formulated with shea butter and vivid color pigments so they are super moisturizing on the lips and give the perfect combination of  hydration and a highly pigmented, long lasting finish. There are 10 trendy, and totally wearable shades to choose from (pinks, reds, and a terracotta-ish shade that is really growing on me), and they retail at $20.90 each at all Etude House stores.
First Impressions
On opening the product, it became pretty obvious that these lip tints are not so much the usual runny lip tints, but more like lip glosses, albeit, highly pigmented lip glosses with a very rich and intense color and high, almost full coverage. So If you're hoping for a lip tint that feels like nothingness on your lips, this is not it.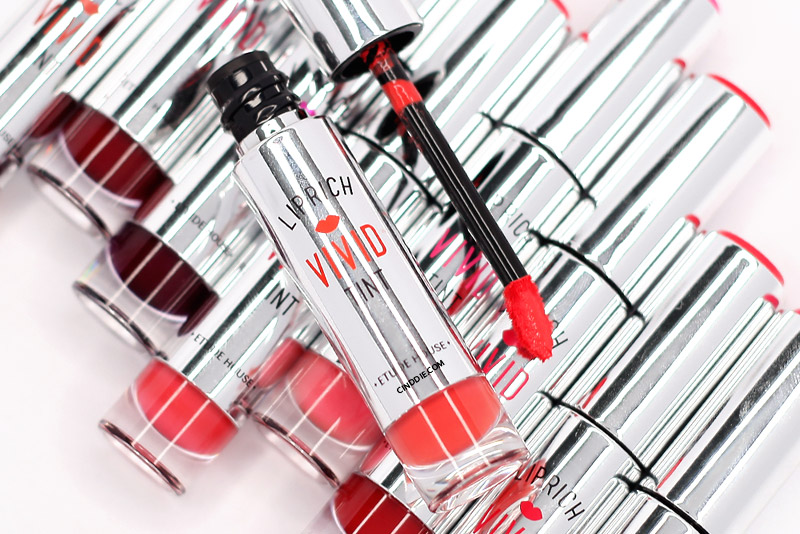 These glide on smoothly and easily onto the lips, leaving the lips feeling very moisturized and hydrated. They have an almost oily feeling, (I have no idea how to describe it, but basically it's like oily but not oily) and if I had to compare its texture to another product, they kinda remind me a little of the Too Faced Sweet Peach Peach Oils, except that these provide a whole lot more coverage.
After fading, they leave behind a pigmented stain on the lips for a more natural, toned down version of the original shade.
Berry sweet!
The scent? Delectable. I wouldn't expect anything less from Etude House. The lip tints have a sweet berry scent to it that is not over powering, and just perfect. I'm a huge fan of sweet scents, not only because they bring me back to my childhood (#nostalgia), but also because I believe it brings a sweet start to the day!
What better way is there to begin the day with, than with a sweet taste on your lips?
The shades
The naming convention is a little confusing on these, but there are essentially 3 pink shades, 3 red shades, 2 oranges, 1 brown, and 1 purple (I think!) The shades look a lot better swatched, and I was pretty surprised at how much I liked some of the shades, like the purple and the brown!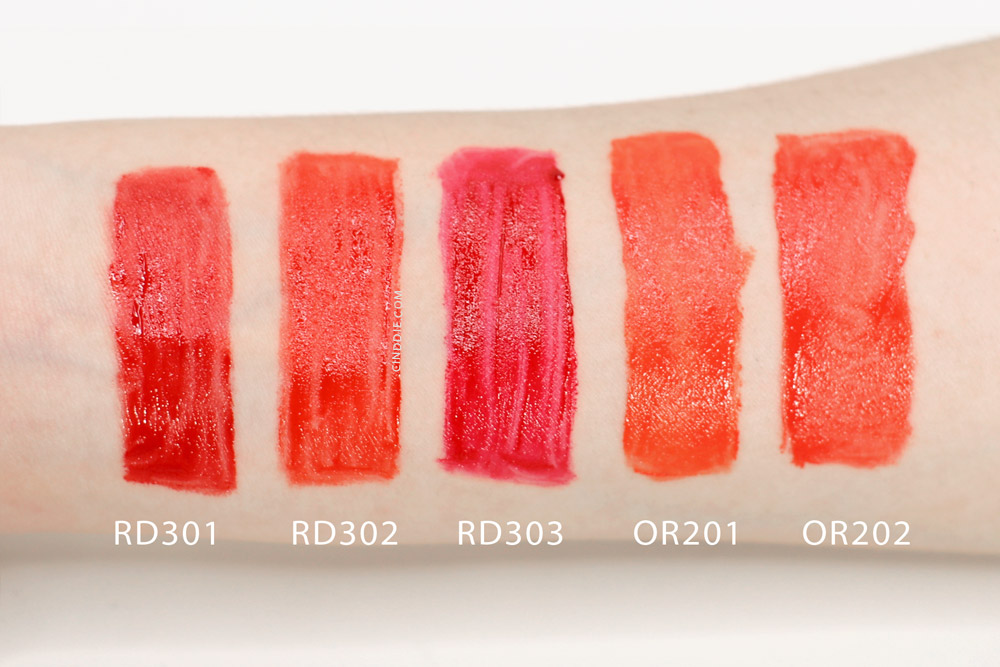 Etude House Lip Rich Vivid Tints
Price: $20.90
Weight (g): 35
Size: 6 g/ 0.21 oz.
Made in: Korea
Is it worth buying? Yes for the sweet scent, and especially if you have dry lips, these should do well to keep those chapped lips at bay.
Where to buy Etude House Lip Rich Vivid Tints
Central
Wisma Atria (Flagship store) #B1-20/21/22
313@Somerset #B2-30
Plaza Singapura #B1-26
Suntec City #02-601/601A
North
Causeway Point #B1-K02
NEX #01-63
Compass One #01-23
Junction 8 #01-48
South
Bugis Junction #01-107/108
Chinatown Point #01-12
Vivocity #B1-03
East
Bedok Mall #01-87/88
Tampines 1 #01-15
West
Jurong Point #01-57/58
JCube #01-21
JEM #02-44
Lot One #01-19
Clementi Mall #03-34
---
Related Reviews
Etude House Dear Darling Soda Tints
Laneige Two Tone Tint Lip bars
Rimmel The Only 1 Matte Lipsticks
#etude house lip rich vivid tint review