Skincare Favorites from Origins – Modern Friction Cleansing Stick / Original Skin Retexturizing Mask with Rose Clay
I don't know how in the world have I never tried Origins before (well, until recently!) and for anyone who is not familiar with the brand, I have just one thing to say; go try them out.
I was introduced to Origins about half a year back, when I was gifted a little basket containing their Modern Friction Cleansing Oil and Cleansing Stick. Some background on me; I usually leave products lying around for a bit before trying them out, just because I'm usually testing out some other product. But a quick google search pulled up so many positive reviews about the cleansing stick that I felt compelled to try it out immediately and I promptly skipped it to the front of the queue.
See the thing about skincare is that, most products take a while to review, because results don't just show up overnight, yes? Origins really surprised me because while it's usually not love-at-first-use when it comes to skincare products and me, I somehow found myself raving about the products almost immediately after trying them out the first time, because they're just so damn effective. I've since gone on to test more Origins products, and I have not yet come across one that I do not like, at the very least. What are the odds! So anyways, here are two of my favourite picks (for now) from Origins!
Modern Friction™ Cleansing Stick with Exfoliating White & Purple Rice
The Modern Friction Cleansing Stick is an easy-to-use, cleansing stick which is perfect for deep cleansing while on-the-go. It gently exfoliates to refine and smoothen the skin while the creamy cleanser removes traces of dirt and debris. To use,  you just massage the stick directly on dry skin gently, in a circular motion. Add water to face and work into a lather before rinsing off.
First impression – it REALLY looks like a stick deodorant. It came in a really handy twist dispenser and had a very natural, fresh scent about it. Using it on the face felt like what I'd imagine rubbing a deodorant stick on your face would feel like. I went around my face in a gentle, circular motion, to make sure that I got every bit of my face, and was careful to not tug too hard at my skin. I kinda wish that the stick would have been small enough to reach the corners of my nose, but no biggie, I could always use my fingers to work the product into the unreachable areas.
I was pretty surprised that the addition of a teensy bit of water and a little bit of rubbing quickly worked into a generous amount of lather. The product had a really nice, spa-like scent to it, as with all the other Origins products! (I tend to describe products as spa-like but what I actually mean is they smell like they contain a lot of goodness for your skin. Don't ask me how I know, I just know.) After rinsing, my skin felt thoroughly cleansed and smooth – no icky squeaky feel there!
Original Skin™ Retexturizing Mask with Rose Clay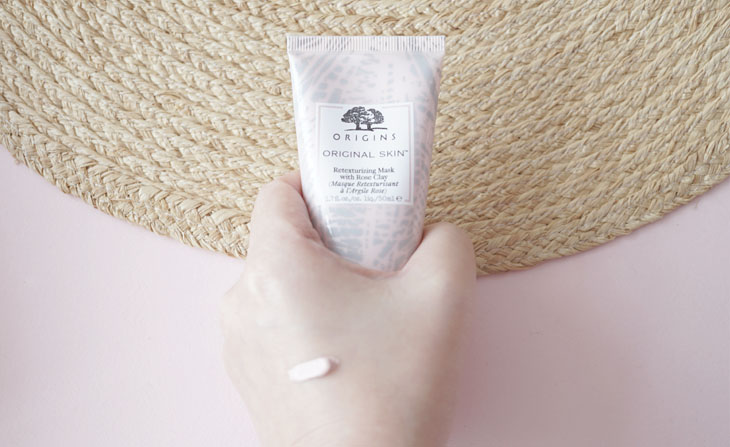 Next up, the Original Skin Retexturizing Mask with Rose Clay; this mask is a two-in-one purifying mask and skin refiner to smooth, refine pores, and basically improve the skin's general quality. (And it EXFOLIATES)
First impression – I already love it because the packaging is pink. 10/10
Okay jokes aside,  the mask has a refreshing spa-ish scent to it (read above), and has little granules for exfoliating purposes so there's really nothing to not love about it. Something you should know about my skin – I have really oily skin, which means I usually have a lot of leftover gunk, sebum, dead skin cells and whatever if I do not clean my face properly. Anything that exfoliates, I like. Anything that exfoliates effectively. I LOVE. And this product has my stamp of approval because it just does such a great job of smoothing out my skin, which shows immediately after just one use.
The clay mask has a nice, spreadable consistency and a little actually goes a long way. I usually just spread a thin layer around my face and massage the exfoliating beads around my face with wet fingertips once the mask has dried. (Which it does rather quickly!) While I'm at it, I can literally feel the gunk being scrubbed away and it leaves my skin feeling baby soft after rinse-off. What I like, is how gentle it feels on the skin, even while it's really giving your face such a good scrub down. I've tried other exfoliating products which somehow do not give you an indication of how harsh it is on your skin until after you wash off the product, which culminates in instant regret every time after I use it (you'd think I'd learn, but I never do)
This product is, honest-to-god, one of my favourite products EVER. I've recently been working on reducing the huge pores around my cheek area, and I feel like this mask had a huge part to play in the improvement that I've seen so far. (Will talk about my fave pore reduction/refining products in a separate post!)
I will probably follow up with more Origins reviews in the near future, but for now I guess this is it!
Since I'm just dipping my toes in the world of Origins, I'd love to hear some recommendations on your favourite products from the brand, do share in the comments below if you have any!