Introducing: Etude House Wonder Fun Park Collection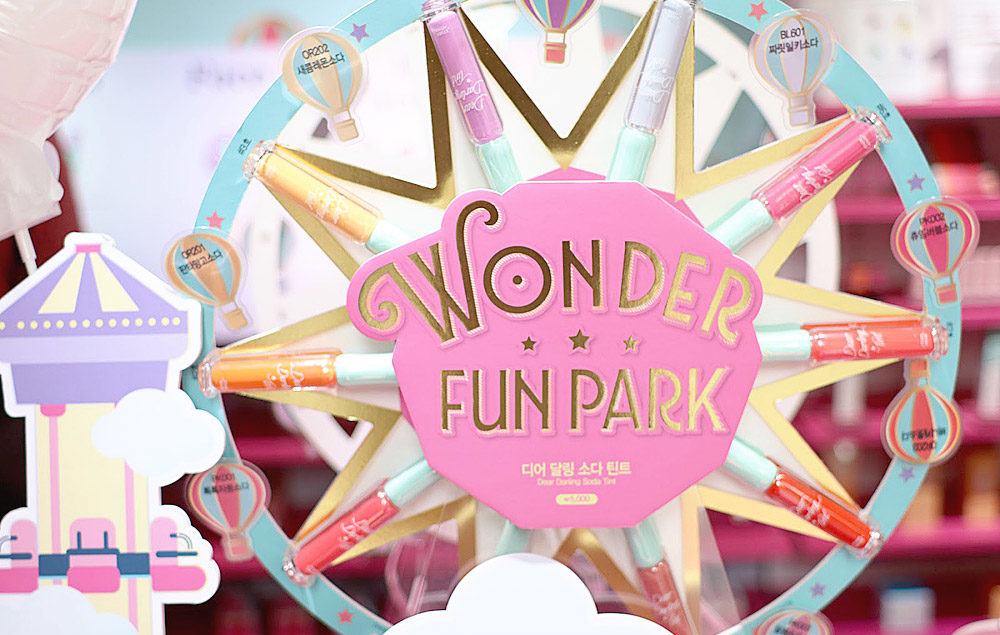 The Etude House Wonder Fun Park Collection is absolutely adorable!
Let me first start off the post by letting everyone here know, just how much I love Etude House. The packaging is always pretty, the store makes me happy, and the fact that I can actually afford a beauty haul there makes it one of my happy places. By the way, i don't have that many 'happy places' so that title is pretty exclusive, okay. (The others being.. MacDonalds, Topshop, Zara, Sephora, Disneyland, and well, my bed)
Whenever I travel to Seoul,
I probably spend more time combined in Etude House(s), than on any other sightseeing/activities OR EVEN DINING. I'm not too sure if the items are actually priced differently in Korea, but somehow foreign currency becomes like monopoly money to me and I find myself mindlessly blowing cash on things I usually wouldn't without thinking about the consequences. This usually ends in regret at the baggage counter, while I make puppy eyes at my friends/family in the hopes that they'd offer to offload some of my stash. And yes, I never learn.
Do I really need 200 sheet masks? Yup. Will it fit in my luggage? I WILL WORRY BOUT IT LATER.
So when i scored an invite to the launch of Etude House's latest collection – Wonder Fun Park, I was beeeeeeyondddd excited. Words can't even describe how incredibly psyched I was for the event (I believe some jumping up and down and hyperventilating was involved), and man it did not disappoint!
Held at the Etude House Wonder Fun Park pop up store (located at the outdoor foyer of Wisma Atria), the space was transformed into a little pastel (!) theme park wonderland, showcasing their latest line up of products.
Our bellies were treated to a healthy and refreshing juice blend by Juixup, followed by the equally healthy Eyescream gelato, and our eyes were treated to a live demonstration of Dave Kim (of Etude House) working his makeup magic on his beautiful model. While pastel makeup is (in my mind) very reminiscent of the 90s, the makeup look demonstrated was very current and fun, and hardly a throwback to a 90s. In fact, I got so inspired by the makeup look, that I immediately got the lilac mascara to experiment with. (ahem. Amongst other things, of course)
Here are some visuals of the collection I took at the pop up store, and I will definitely be coming back in with a detailed review of the items. Sadly, today (16th March) will be the last day of the pop up, but the collection is available at all Etude House stores,and I will list the locations down below at the end of my post!
Etude House Wonder Fun Park Color Eyes #1 and #2 – $25.90
I haven't put these palettes to the test yet, but just going by the shades in the pan, I'm pretty sure these are palettes that I will get a lot of use out of. #1 looks perfect for a daytime girl-next-door look, and #2 for a sultry evening look.
Etude House Wonder Fun Park Glitter Pigment $17.90
I got the one in pastel pink as a impulse buy, and I've since become very excited about trying it out even though I'm not quite sure when I'll get to use it without looking OTT.
Etude House Wonder Fun Park Candy Cheek and Candy Highlighter $26.00
The one pictured above is the Candy highlighter, I didn't catch a picture of the candy cheek blush, but I will be including it in my detailed review!
Top row: Etude House Wonder Fun Park Dear Darling Soda Tint $9.90 (10 shades)
Bottom row: Etude House Wonder Fun Park Dear My Blooming Lips Talk $17.90 (5 shades)
Not pictured here, but the soda tint in BL601, an iridescent pastel purple, is THE BOMB. It goes on as a translucent gloss, but gradually changes to match your natural lip color. Is it magic or what?!
Etude House Wonder Fun Park Nail Kit $17.90 #1 and #2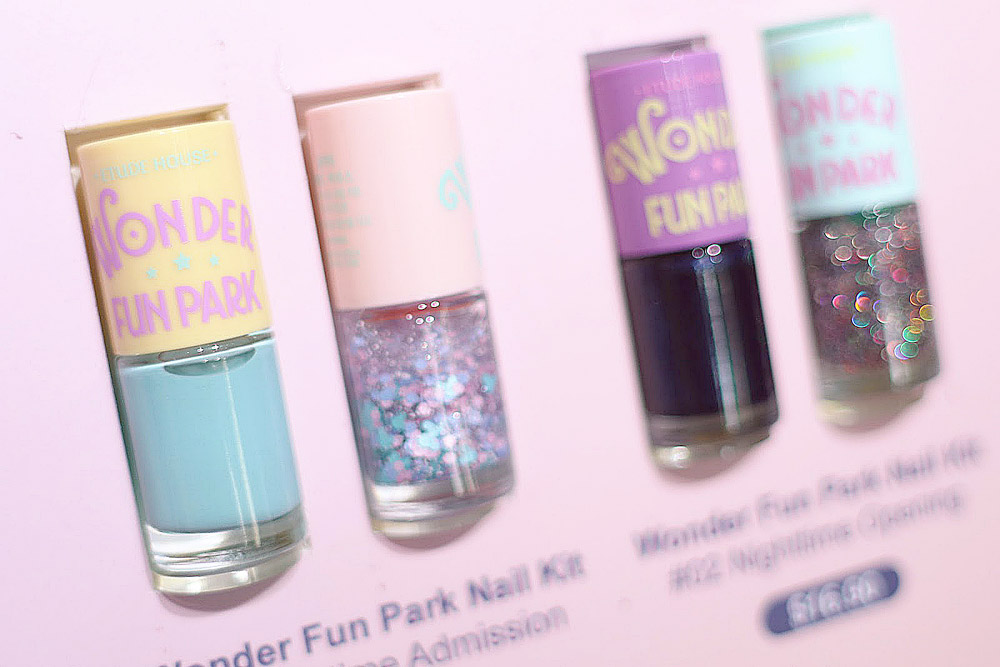 Each of these nail kit sets come with an adorable nail sticker sheet which I predict I will not use and just keep forever because they are just too cute for consumption, and they will eventually be inherited by my niece who has already set her eyes (and heart… and soul) on them.
Etude House Wonder Fun Park Brushes – Candy Cheek Brush $22.90, Candy Highlighter Brush $17.90, Color Eyeshadow Brush $16.90
Pictured above is just the eyeshadow brush, and I am now kicking myself in the butt for not getting this. I did purchase the Candy Cheek brush, but in hindsight, having a set would be nice. Last I heard, these beautiful unicorn brushes are no longer in stock, so if you come across these in the stores, just grab them and don't look back. (but don't forget to pay for them first.)
Etude House Wonder Fun Park Eau de Toilette $25.90
Another classic example of a product I don't need, but yet need. This was one of the first items I threw into my basket because, just look at that bottle. You can sell me bottled egg farts in that jar and I will still buy it.
There are still a few more products I didn't photograph during the event, and those are the Hair Perfume Mist $16.90, Lash Curl Fix Mascara (available in Pang Pang Purple and Swing Mint $20.90) and My Beauty Tool Eyelashes – (available in Roller Lash Brown and Petit Wing Lash Brown) – priced at $6.90 but I will be, (now I'm at risk of sounding like a broken recorder) including them in my next review of the collection.
As promised, here's the list of Etude House locations, do drop by to experience this collection for yourself in the flesh!
Central
Wisma Atria (Flagship store) #B1-20/21/22
[email protected] #B2-30
Plaza Singapura #B1-26
Suntec City #02-601/601A
North
Causeway Point #B1-K02
NEX #01-63
Compass One #01-23
Junction 8 #01-48
South
Bugis Junction #01-107/108
Chinatown Point #01-12
Vivocity #B1-03
East
Bedok Mall #01-87/88
Tampines 1 #01-15
West
Jurong Point #01-57/58
JCube #01-21
JEM #02-44
Lot One #01-19
Clementi Mall #03-34
---
Related Reviews